Communitas I met Michelle and Susan, her Mom, on the first day. Michelle also lives in New York. Michelle also attends NYU. Michelle also lived in the same residence hall where I was an RA only one year prior. We also just so happened to be staying in the same albergue in Saint-Jean. In the same room. Thanks, fate. In Burgos a pigeon landed on Michelle's face. The window to the balcony was open while Susan & Michelle took a nap inside their hotel room. The bird, possibly thinking Michelle's short hair made a beautiful nest, flew into the room and nestled it's talons into her cheek. Not two seconds later, after a shriek (from Michelle), a double-shriek (from Susan), and a "What the hell?" from Paul (the Ugandan pigeon whisperer)–the intruder was captured using a scarf. Michelle & Susan told us this story while giggling, watching their lingerie flapping in the wind above the city square where we sat having drinks. They took snapshots of their panties and bras hanging deliberately from the hotel balcony. Burgos was the first city where I realized I was forming a Camino family. I was in a bizarre traveling community–on the move until we hit Santiago where it would disappear and everyone would head back to their corners of the world and it feels so ephemeral and impossibly tied to time and there's nothing we can do but appreciate the moments we have when we're having them. Especially the moments with terrorizing pigeons.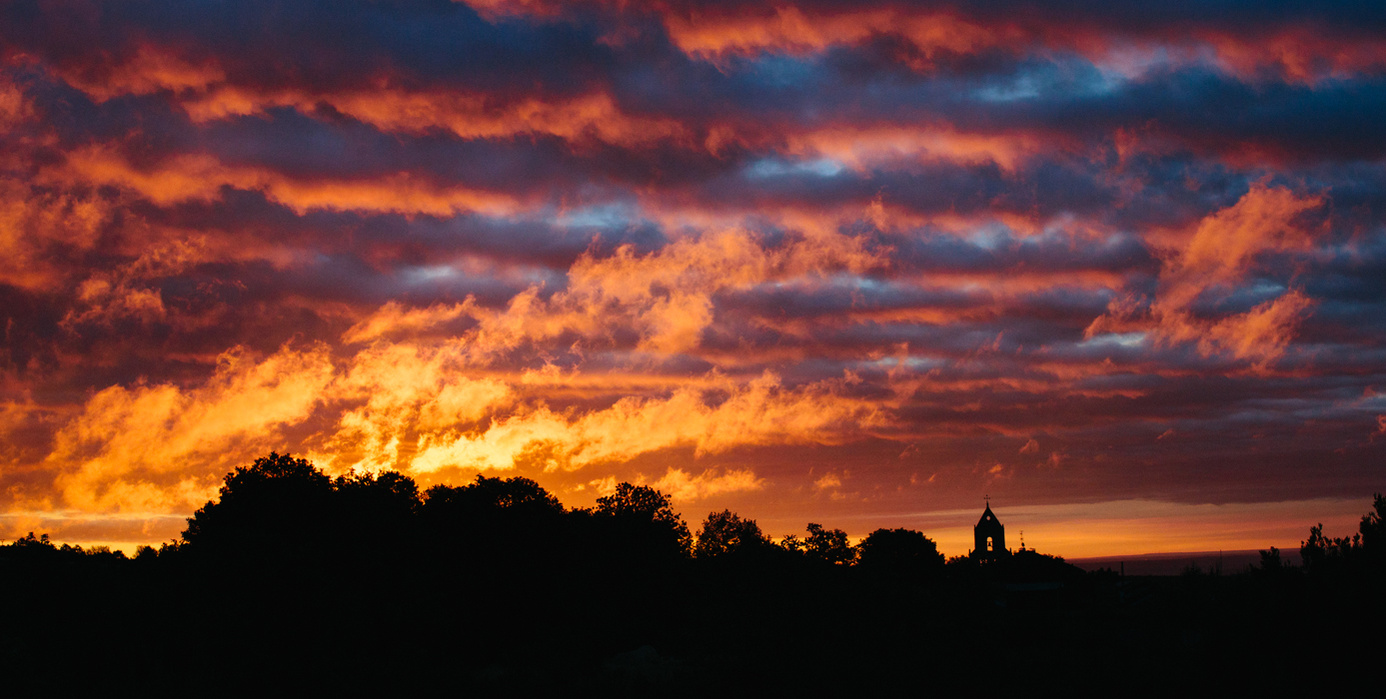 Cruz de Ferro
Cruz de Ferro is an iron cross mounted atop a large wooden pole–a monument on the Camino that has both technical and symbolic meaning. It marks the highest point of the Camino Frances, sitting at 1,505 meters. Prior to their beginning, pilgrims are asked to bring a stone from their home country. The tradition is to place it at the base of the Cruz de Ferro to symbolize what the pilgrim wants to leave behind and to prepare themselves for rebirth on the last part of the Camino. Over time that tradition has evolved and now pilgrims bring a wide range of artifacts to leave beneath the cross.

As I climbed up to Cruz de Ferro I realized I was walking on a pile of prayers from all around the world. Even as I was standing there I saw the elements begin to break it all down. The wind would grab a photograph and send it flying down the road. People's feet and sticks and bike tires were slowly grinding the stones into dust. The only rocks with labels had flipped or found themselves buried away from the weather. The others had all been washed away over time.
Every day people add to the artifacts, building new generations of memory and emotion–the pile growing ever higher. I saw people wrap their arms around one another and cry. Others posing with their hands held high and smiling. As I looked up onto the cross I saw sonograms and dog tags, seashells and family photographs. For most of the photographs you don't know why they are there. If someone died or is ill, or if they just wanted to come along for the ride to Santiago
Some people burn things or leave their shoes.
Some people burn their shoes.
It is both a memorial and a celebration. It is a riddening of sin, a leavening of burdens, and a dispelling of grief.
I imagine if God had an inbox it would look something like this.
Santiago

I think people have a lot of expectations for Santiago. If they haven't had a revelation they want it to slap them in the face the moment they see the Cathedral. Santiago itself is a beautiful city, home to a well-known medical university and a heavy dose of tourism. Often pilgrims who are trying to soak in their arrival are interrupted by a tour guide or a group of bagpipe players. It is a test before they return to the distractions of normal life. Can you hold onto new values despite the insanity? A funny thing happens when the raw sentimentality of the Camino mixes with what can sometimes feel like a theme park. I saw one woman who had set down her walking stick to take a photograph of the Cathedral. Five minutes later she was fishing it out of a janitor's trash bin and trying to clean it up.

Many pilgrims in Santiago look lost. They don't know what to do now that they aren't being kicked out of bed in the morning and guided by yellow arrows until it's time to rest again. I spoke to a girl who lives there. She said it's like "traveling without traveling. The culture comes to you and the people are flowing, the streets are flowing. It is a flow all the time. I am talking to you now but in one week you will be gone."

It is the final resting place and the center of celebration for so many newly formed Camino families. You can feel the weight of the goodbyes strain the sidewalk.


Chris, Babsi, and I set out for Santiago at 3:30 in the morning. We lit up the woods with our headlamps and told ghost stories until Babsi started to actually get nervous. When the tip of the cathedral appeared on the horizon Chris declared, "I'm going to take a shit on the front steps."

… Not what I was expecting.

We were feeling loopy and frustrated because, at that point, it had been raining on us for four straight days. The weather, coupled with impending emotions and the sudden increase in foot traffic, had the three of us feeling guarded and slightly detached.

We went through the routine. Received our certificate of completion, attended the Pilgrim's Mass, and congratulated everyone with whom we had shared the road as they strolled into the Cathedral square.

People fear the return from the Camino because it is not just a return to work like a normal vacation. It is also a return to a world where you can't just sit down with a stranger for coffee and a meal. You can't give up on caring what you are wearing or what funny tan line you'll be forming next. Some see the Camino as a religion itself (or a way of life).
I often tell people that what I found on the Camino is a quiet place. A place inside where I can go when those around me are being manic. A simple reminder of the way life could and should be. Some would say that is the same as finding God–something to hold onto when times are hard. There is something about the extremes of it all. The horrific pain makes chocolate, attractive men, and even drinking water that much more intense.  Someone told me yesterday that "we choose to suffer." I began to see my pain as a small price for the strength I felt in my legs and back. I lost my addiction to the mirror. I met a young Spanish man and I saw his bad English as poetry. I replayed my conversations with a poor man from Belgium and a wealthy couple from Uganda. I thought about the trivial complaints I too often hear back home. While I was writing in my journal a young Irish girl asked me where I was from. After I told her she replied, "People say New York makes you cold. You seem quite warm."