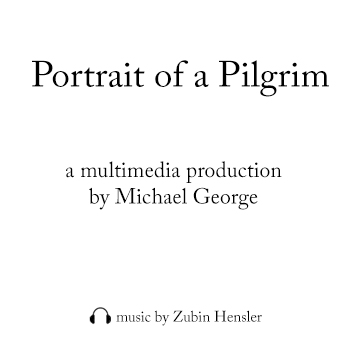 The Le Puy Route
Every time I woke up I saw something new from the train. A couple kissing, a son hugging his mother, clouds opening just enough to let out a spotlight of sun, a town called Middelfart. I wonder how much love is felt on a train platform every day. When you travel you pick up small details that explain the lives of those you meet. I use my host's shampoo and feel like I'm tapping into their insecurities; he thinks his hair is too thin, she thinks her hair is too dry, or maybe I grab a bottle at random and try to escape the neurosis that sometimes rules my morning routine. I have spent the last two weeks jumping from London to Denmark to Germany while interviewing pilgrims I met on the Camino last year. Now I am returning to the route, starting 500 miles further from Santiago than I did before.  I arrived in Le-Puy-en-Velay after 12 hours of delay. A hill lead up to the seminary where I would be sleeping, and by the time I reached the top I had already almost collapsed under the weight of my bag. The next day I was supposed to walk 23 kilometers with 42 lbs. over at least five mountains. I struggled with the language barrier until a Frenchman from Paris translated where the showers and laundry rooms were. Christophe was his name. What time is dinner? Breakfast? Mass? This is your key. Leave it in the door when you leave.
Pilgrim's Mass I woke up the next morning at 6am with zero motivation. I looked at my bag and gave it a good kick. It didn't budge. The bells were ringing for the pilgrim's mass and from the adjacent dormitories I heard people throwing all of their belongings into their packs. I decided to attend even though I wasn't going to begin walking until the following day. At first I felt out of place. Not Catholic. Not walking. The priests spoke in French and then translated to English. "This mass is for all faiths." I relaxed a little. After a traditional blessing the priests gathered all of the pilgrims under a statue of Saint James. At this point the ceremony took on an atmosphere of summer camp. Joyously the priest began asking every single person to announce their name and where they were from. Philippe from France, Berit for Norway, Bori from Hungary, Masato from Japan. Michael from New York. "New York! My sister lives in New York. I love New York." He started singing "New York, New York." I crept back into the shadows. When I arrived back at the seminary I realized Christophe, my trusty Parisian translator, was now off on the Camino. After a few rounds of charades I explained to the old woman in charge that I would like to stay another night. She handed me a towel and pushed me towards the kitchen. It was time for lunch. Apparently I was helping.
Jack & Thomas After cleaning the table we set out bread, wine and a massive pot of stew. Jack walked in. As he strolled across the room I could tell by his beard and dark skin that he had been walking for a long, long time. Three months actually, all the way from his home in Holland. Outside the window his dog was barking and kept jumping up to get a glimpse inside. "His name is Thomas. Doubting Thomas, actually. He never believes I am coming back for him." Midway through the meal Thomas' barking stopped and he magically appeared in the kitchen doorway. "He's also too clever for his own good." After dinner I walked with Jack to the seminary's garden where he was sleeping. He was the only one camping that night. An entire mountainside view to himself. Before he reached the official Camino, Jack was approaching farmer's homes and asking strangers to sleep in their yard. Often he was invited in and despite never planning anything he had survived on the road for the past 90 days. "Thomas had a hard time the first month, but since then he has been just fine." I think you can easily tell when a dog is happy. Thomas is ecstatic 90% of the time. He is never on a leash and often rolls in the grass before jumping up, wagging his tail, and nuzzling with anyone who decides to walk his way. I don't think I have ever seen an animal with such a glowing personality.
Over the next few days I ran into Jack & Thomas over and over. Often I would see Jack from afar and before I knew it Thomas was bounding my way. After a few more conversations I learned that Jack left his job to walk for most of the year and has no idea what he will be doing once he returns.

I asked him about that uncertainty, or what he does when it starts to rain (he has no tent), and he replied with a smile, "I don't see problems, only solutions." Less than an hour later it started to rain and I thought about Jack and his clothes that were hanging to dry in the garden. A few hours later the clouds parted and as the sun was shining I ran into him on the street wearing a freshly washed, slightly damp t-shirt. I guess he was right.
On the Road I left a day later than planned. I walked and hurt. Walked more and hurt more. Traveling in France is tough. Not the kind of tough like it's particularly dangerous or confusing. Tough in the sense that there are just enough locals who roll their eyes at your accent that somewhere in your subconscious, with each passing day, you get a distinct feeling that you're not wanted. In some ways it feels like all of the bad parts of high school spread out across an entire country. My Camino companions had a much lighter spirit. The Le Puy route is mostly populated with French people on vacation but every once in a while you find someone who plans to walk the 1,000 miles from Le Puy to Santiago. Those pilgrims are different. Not many people have two months or more to dedicate to the way. Most of them had completely abandoned their lives in hopes of change, or they were retired.  Towards the end of the walk on my first day I met Regis, a charismatic Parisian man with a broken hand.  After watching me attempt to buy lunch he said, "You know, there's a name for people who only speak one language… American."
We ended up walking together that day and then the following I ran into him sitting next to a river and he asked if I wanted to join him for lunch. Because of his broken hand he needed someone to help cut the chorizo. We climbed up to a chapel that was carved into the side of a mountain and chatted with the passersby. He told me I was now his companion, and also taught me what that means. "With whom I share bread." Regis represents one of the best characters you find here. A person with a genuine heart that has somewhat been swallowed by a city where their personality gets diluted. On the Camino everyone has time. Everyone has space. It feels like multi-cultural Kindergarten.
Gites
The Camino Frances in Spain is the most popular route and the government has created a system that keeps the albergues affordable. In France you either sleep in a tent or in a gite. The gites are similar to albergues but they are typically run out of a family's guestroom or guesthouse. They run on a "demi-pension" that provides a place to sleep, dinner, and breakfast and the price is typically 35 Euro per night (compared to Spain's 5 - 8).

Because the traffic on the Le Puy route is so random it is also a requirement to call ahead and reserve a spot at each location. Over the first few days I slept in a seminary, the upstairs level of an old French couple's barn, and in the guesthouse on a woman's farm.

On my fourth day I walked 24 kilometers but I couldn't get a hold of the single gite in the village where I was headed. When I arrived they were full and it was another 10 kilometers to the next place. I sat on the front steps with my head in my hands. It was already 4pm and I knew I would be walking until sunset.

Willem turned the corner and gave me a smile. I first met Willem, Luke, and Lou after passing them a few times and, at one point, accidentally leading them down the wrong path. They are all from Belgium and Willem actually started walking from there. He had already been on the road for a month and planned to continue for another two. Lou, his mother, and Luke, his girlfriend's father, had joined him for just that week.

Note: The music you are listening to incorporates various ambient sounds I recorded while on the Le Puy route. The backing track of two men speaking is Willem conversing over dinner.
Willem is tall and kind–the type of traveler who speaks many languages and will invite you into a card game no matter what your age or nationality. He carries a large wooden walking stick with sharpie signatures from his friends back home, people he has met along the way, and a secret message made up of symbols that were written by his girlfriend. He told me they have their own alphabet.

I always find it refreshing to meet somebody my age who is dedicating so much time to exploring by foot. Simultaneously the simplest and most intense way to see the world. He told me stories of menacing dogs, getting lost, and randomly meeting a priest who decided to bring him to a wedding even though he was dressed from head to toe like a typical pilgrim. Willem was taking a break from writing his master's thesis which focuses on various aspects of sustainable energy. As we talked the 10 kilometers slipped by as the sun disappeared. We walked beneath power lines and he taught me about the percentages we waste on a daily basis. I taught him the rules of improv comedy.

When we finally arrived we had been walking for 12 hours total. I took off my boots and set them in a pile where I noticed Regis' bright yellow sneakers. "I can hear you Mich-a-elle!"

I laughed. "Are you here?"

"No I am not," he replied. "It's a trap!"

I laughed again.
Lost in the Aubrac
The next day I set out into the landscape of the Aubrac region. The palette is soft tan with spots of grey. Heavy with emotion. Hills undulate with what looks like flattened wheat grass, punctuated by large slate grey boulders. I had taken a day off so I fell behind everyone I had met thus far. I was walking through this unreal countryside with myself, the cows, the wind, and the rain. After a while my imagination started adding folk bands and fairy tales to contrast the barbed wire fences that kept me on the route. At one point I was climbing a hill and I heard an old man yelling and a little girl laughing. At first I thought my imagination had actually gone wild, but then I saw this scene. A grandfather teaching his granddaughter how to rappel using a simple red rope that was wrapped at least 20 times around his waist. I stopped for 10 minutes and watched the only humanity I had seen in hours. When I kept walking down the next hill the striking contrast of old and young voices faded behind me on the trail. Shortly after passing through Saint-Côme-d'Olt I took a wrong turn and ended up on the top of a mountain as it was getting dark and cold. I was carrying no food or water and nearly at the end of my ability to carry my backpack. I knew I was lost when I noticed a spiderweb crossing my path and I spooked all of the cows, as if they weren't used to people walking by. My adrenaline took over and I began to jog along the ridge at a brisk pace. I kept seeing villages down in the valleys to my right and my left but there was no path except for the one straight ahead. 
I finally began veering downward and knocked on a few doors to no avail. A few minutes later I heard a car engine and ran around a corner waving my arms. A farmer pulled up with his dog and son sitting in the passenger seat. I explained to him that I was a pilgrim and he smiled. Somehow I was 12 kilometers off track. He asked me to jump in and we drove to his house where he dropped off his son. I told him I was a photographer and he drove me to a natural lava rock phenomena with a knowing smile. After our pitstop I asked to take his portrait and offered to pay him for driving me down the mountain. He refused. Too often do we realize you find the real adventure the moment you leave the established path.
Conques
In the next two days I was adopted by two monks who were walking with 12 young people. They posed in a field of wild flowers and asked if I would like to eat lunch with them. They had apple sauce and chocolate. A giant orange slug tried to devour my chorizo. I struggled to find stories and my sunglasses fell off my face while I was walking. I accidentally stepped on them. I called my sister that night to relax into a conversation with someone whose first language was English. I vented. As we spoke the bartender who served me dinner walked out with a blanket and wrapped it around me, patting my head. In that town there was a castle. On that castle was a light show. I ate a pizza with three types of duck and drank a beer with a guy from Paris and a guy from England. After ten days on the Le Puy route I arrived in Conques early in the morning as the fog was lifting away from the cathedral. I bought a few pastries to celebrate and sat down to eat them in a patch of golden light when someone touched my shoulder from behind. It was Willem. He introduced me to a shepherd who lives in the Pyrenees for five months out of the year. More importantly he introduced me to his dog, Gus. Gus likes to jump straight up into the trees and bite off their leaves. (Gus is perfect). I ended my walk in France while there were trumpets playing together with an organ in the Cathedral and as I opened the large medieval door I was hit with the final notes of "The Sound of Silence" and I saw all of the people I had met on the trail sitting there, in silence, many of them brought to tears.
My time documenting the Le Puy route was short but intense. Emotionally, physically, mentally. I have been told that the most beautiful ten days of walking (in all of Europe) are between Le Puy and Conques. What they don't tell you is that beauty typically comes from a mountainous landscape that punishes with a steep and isolated expanse. Because the Le Puy route is less populated my relationships were deeper, as was the loneliness. I met a man named Cedric walking with his 12-year old son; an Australian girl trying to learn French; and Gelbort & Monique, a couple who spoke not a word of English but always gave me hugs when I saw them.

The end of the Le Puy route is actually the starting city of the Camino Frances, the place where I began the year before. I now understood how shocking it can be to land in Saint-Jean-Pied-de-Port and see the Camino language shift from French to English in a sudden explosion of international representation.